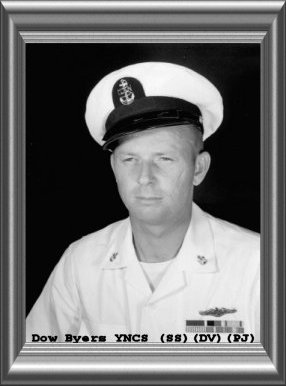 IN LOVING MEMORY TO MY BEST FRIEND
DOW F. BYERS
YNCS (DV)(PJ) SS
1931 - 1990

In 1990, Lourdes, Mandy (our grand-daughter) and myself attended Rudy
Boesch's retirement. After the retirement and the trip to Virginia Beach we
headed south to tour Disney World and visit with Dow Byers in Brooksville,
Fl.

Dow was looking quite the man with a full beard, longer hair and some type
of wacky shorts his daughter Rebecca had sent down to him. He seemed very
happy and was spending most of his time painting and tending to his horses
on the small ranch he accquired. We talked and laughed about all the good
times we had at Underwater Swim School in Key West, Fl and UDT~21 and 22 in
Little Creek, Va.

Dow had retired from the US Navy and from Old Dominion University, where he
was the Cheif of Police for many years. He employed several retired SEALs
and made his second career a success.

In September 1990 Dow met an untimely demise. He died in his home of a
fatal CVA. He has taken his last swim up to the "Big Frog Pond" in the sky
above.

John Francis Rabbitt(aslo deceased) myself and another friend of Dow's
traveled to Florida to pay our respects. Since he was cremated these was no
funeral so a small wake was held in his honor.

Attending this small wake for Dow was his family.

Annice Byers~his wife

David A. Byers

Rebecca Byers-Menendez~CDR. Jack Menendez and their two children
Velika-Marie and Jamie-Lynn

Terry Anne Richardson~BMCM Dennis Richardson and their two children Bevin
and Daniel

Marijean Perry~Dan Perry and their child Kirsten

David Dow Byers

John Francis Rabbitt

Erasmo "Doc" Riojas and Lourdes Tolentino

And a friend ( Retired Navy CPO) from Old Dominion University (sorry his name seems to have escaped me)

Dow's ashes were scattered in the Gulf of Mexico.

Dow may you rest in peace.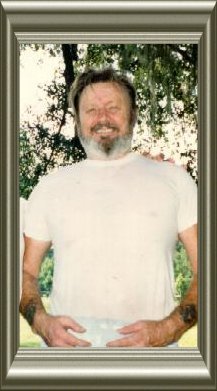 Webmaster: elticitl@mi-vida-loca.com - Copyright ©1998 - All Right Reserved